Let visit to the heart of Myanmar, experience the rich culture, the un-spoiled wonderful sceneries and natural and finally great memorable moments while visiting Southeast Asia SEA nation, Myanmar.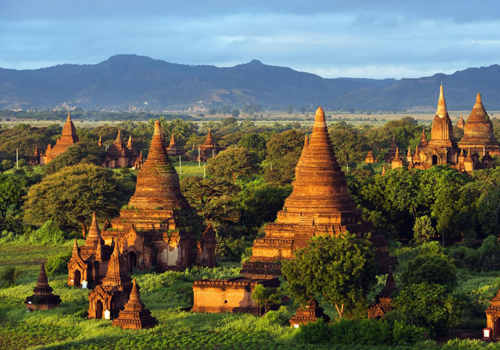 Day 01: Arrival Yangon 
Arrive by either morning or afternoon flight to Yangon International Airport. Our representative will give welcome gifts including traditional Shan bag, postcard & Map of Myanmar. Then, transfer to hotel. Here we would like to reserve enough time for you to take a good rest that you may need after a long tedious flight. Therefore, sightseeing in Yangon is transferred to the day before departure that you will enjoy for the whole day.
Day 02: Yangon – Mandalay ( B )
After breakfast at the hotel, you will transfer to airport for flight to Mandalay. On arrival to Tada-Oo International Airport, you will be proceeding to famous Mahamuni Pagoda, one of the most sacret Buddha Image in Mandalay. Then a short visit to Gold foil making cottage industry. Check-in at hotel and followed by sightseeing that begins with Shwenandaw Monastery, noted for its exquisite wood carvings; Kuthodaw Pagoda, known as the World's Biggest Book for its stone slabs of Buddhist scriptures. Tour continues to Mandalay Hill, a vantage point for a panoramic view of the city and a spectacular sunset view.
It is worthy to have a stroll up the hill enjoying panoramic views from different location. Return can be made by car as there is also a car track by the base of elevator just before the platform. Overnight at hotel.
Day 03: Mandalay – Amarapura – Inwa (B )
After breakfast, visit to an ancient city of Amarapura, 11 km south of Mandalay highlighting Bagaya Monastery with a famous collection of Buddha images from different periods; Maha Gandayon Monastery; and 1.2 km long U Bein Wooden Bridge.
Then, tour continues to Inwa ( Ava ), and here you'll be taken by a native horse cart for sightseeing around Inwa that would last hardly 3 hours.
Inwa is a historical capital founded by King Thado Minbya in 1364. Extended visit will be made to Bagaya Monastery that is a fine example of Myanmar masonry art and architecture, Mainu Brick Monastery and old watchtower. Overnight at hotel in Mandalay.
Day 04: Mandalay – Bagan ( B )
After early breakfast ( breakfast box is recommended ) transfer to Jetty for a whole day reverie cruise on the majestic Ayeyarwaddy River from Mandalay to Bagan.
Enjoy the extraordinary scenic and interesting sights along the picturesque Ayeyarwaddy River on Shwe Kein Nayee boat with the capacity of (200) passengers, air-conditioned hall provided with comfortable reclining seats. ( Shwe Kein Nayee boat operates daily except Sun & Wed. On Sun & Wed, an old boat which carries cargo and has no aircondition will operate).
Arrive at Bagan Jetty in the evening and transfer to hotel. Overnight at hotel.
( Pls note: If there is not schedule for boat, will fly to Bagan by flight. )
Day 05: Bagan ( B )
After breakfast at the hotel, you will transfer to airport for flight to Bagan. On arrival you'll be taken to Shwezigon Pagoda a prototype of later Myanmar stupa. Then to Wetkyi-in Gubyaukkyi Temple with fine mural pain-tings of Jataka scenes. After that, transfer to Hotel for check-in.
Afternoon sightseeing tour continues with visits to lacquerware industry where you can study traditional Myanmar lacquerware making, Manuha Temple with gigantic Buddha images, a captive king's impression of life in prison; Nanpaya, an Early-style temple with the finest stone carvings. Although it has spots lights installed, it would be safer to bring your own touch as electricity supply can be shut-off from time to time.
In the evening you will be visiting the Ananda Temple, an architectural masterpiece resembling a Greek Cross. Overnight at hotel.
(In Bagan there are more than 2000 temples & stupas. Indeed it is difficult to cover all temples within limited time. Therefore we have carefully selected only some major temples for you in order to avoid hectic tourism. But if you want to see more temples, just let your guide or driver knows. They can show you as much temples as possible within your stay.)
Day 06: Bagan – Popa – Kalaw ( B )
After breakfast check-out and proceed for Kalaw via Mount Popa. It is an extinct volcano, and is generally known as the abode of legendary Nats or spirit gods for which the annual festival is held during the Myanmar month Nayon
( May / June ). On top of the mountain, there are monasteries, pagodas and shrines in different style. Then proceed by coach to Kalaw via Meik Htila. ( The total drive would take approximately 9 hours )
Overnight at hotel.
Day 07: Kalaw ( Trekking to Palaung hills ) – Pindaya ( B )
After breakfast, trekking to Palaung Hills in Kalaw surrounding area and visit the hill tribes villages in their colorful costumes. Then, drive about 1 1/2 hour to the small quiet town Pindaya enjoying the great scenic beauty of the countryside along the road to Pindaya.
Overnight at hotel.
[ Trekking can normally be started early in the morning so it is necessary for an overnight stay in Kalaw before trekking. And closest tribal village would take at least 2 hours to and fro apart from visiting hours in the village ]
Day 08: Pindaya – Nyaung Shwe (Inle Lake) (B)
After breakfast at hotel visit to Pindaya Caves, well known for its Buddha statues carved out of limestone. Then a short stop at over 250 years old Banyan trees. Mulberry papermaking factory, Bamboo hat making factory. Then drive to Nyaung Shwe where Inle Lake is situated. Check-in at hotel. Overnight at hotel.
Day 09: Nyaung Shwe ( Inle Lake )
Your morning excursion in Inle Lake ( by boat ) visiting to the following places like unique leg-rowers and scenic beauty, fishing canoes using special methods for fishing and collecting seaweed, lakebed mud etc to make floating gardens. Then you will visit well known Nga Pe Chaung ( Jumping Cat ) monastery and Silver smith factory.
Then visit to Cheroot making factory, Boat making carpentry workshop, Silk weaving factory. In the lave afternoon, visit the most famous Paungdaw Oo Pagoda. On the way back to Nyaung Shwe you will pass through some villages to enjoy life on the lake.Overnight in Nyaung Shwe.
Day 10: Heho – Yangon ( B )
After breakfast, visit to Indein, the hidden treasure of Pa-O ethnic tribes to see the ruin pagodas in the forest. Then transfer to Heho airport for flight to Yangon. On arrival transfer to hotel and overnight.
Day 11: Yangon ( B )
Your morning sightseeing tour of Yangon features Shwedagon Pagoda, the world famous glittering gold stupa towering over the city with a great spire to the height of 326 feet; Chaukhtatkyi, a colossal reclining Buddha.
Afternoon sightseeing tour includes visits to National Museum; Mahabandoola Park with Independence Monument; and Bogyoke ( Scott ) Market, a famous shopping centre of Yangon.
Then return to hotel and overnight.
Day 12: Departure ( B )
After breakfast, sightseeing in Yangon includes visits to some major highlights like Gaba Aye ( World Peace ) pagoda and Mahapasana Cave. After that transfer to airport for international departure.