Golden Rock
In this tour, we will visit the world famous "Golden Rock which is located in Kyaik Htoe Region, observe the wonder then exploring around Bago City for ancient pagodas and learn their culture. After then we will leave to Pha-An which in is Kayin state where beautiful sceneries and caves are located and it was once restricted area for the tourists. Return back to Yangon city and enjoy the memorable city tour accompanied with observing the "Shwe Dagon" pagoda.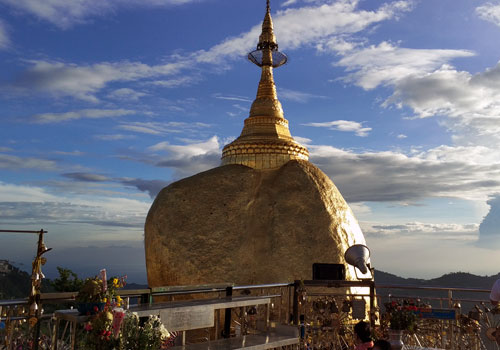 Day 01: Arrival in Yangon- Bago – Golden Rock (L, D)
Upon arrival at Yangon International Airport, our representative guide will welcome you and leave for KyaikHtiYo Pagoda also known as (Golden Rock) which is about 160 km from Yangon by private coach. On the way to Golden Rock, we will visit Bago, the ancient capital city of Mon ethnic group. It is 80 Kilometers northeast of Yangon. Sightseeing tour highlights include attractions in Bago: Hintha Gone Pagoda: a major place of nat or spirits worship and festivals and then proceed to Cheroot Making Workshop and Wood Carving to see the local products and then visit KyatKaWyne Monastery, one of the largest monasteries in Myanmar, to study the lives of the monks and visit colorful local market to observe the ways of life of local people. And then arrival at KyaikHtiYo and the coach has to stop at Kinpun Base camp. From there you have to take an truck which is normally used for hilly track up to the golden rock. Overnight at hotel in Golden Rock.
Day 02: Golden Rock- Pha -An (B, L, D)
After breakfast, we proceed to Pha -an, the capital of Kayin state and the homeland of Kayin national races.Pha-an is a beautiful city surrounded by sacred mountain and has Buddhist caves to explore. On the way to Pha-an. Lunch time at local restaurant. Upon arrival in Pha-an in the evening, then transfer to hotel for check-in. Overnight at hotel in Pha-an.
Day 03: Pha-An- Kyaikhto (Sein Lae Tin Resort) (B, L, D)
After breakfast at the hotel, we will check-out and visit attractions in Pha-an including the most spectacular caves : Kawgun Cave with amazing carvings of the Buddha statues over the wall , Yathaypyan Cave which contains several pagodas as well as a few more clay wall carvings. Saddan Cave features a deep cavern with golden pagodas and statues of the Buddha. The cave also contains a lake, which you can cross by taking a ferry operated by local fishermen. Khayone Cave which is one of the natural limestone cave where you can see the Buddha statues all over the wall and ceiling and the wall paintings. And then proceed to KyaukKaLat pagoda, a rock formation with a golden stupa on the top of the limestone pinnacle and we will take photos at the bottom of the massive and beautiful Zwegabin mountain. After that, we will leave for Sane Let Tin resort which is on the way to Yangon. Overnight at hotel in Sane Let Tin resort.
DAY 04: KyaikHto (Sein Lae Tin) -Yangon (B, L, D)
After breakfast, we will explore the Sane Let Tin resort breathing fresh air and see the beauty of the garden full of lovely flowers and fruits. After lunch, we will head back to Yangon.
Visit Shwedagon Pagoda in the evening. It is believed to be built over 2500 years ago. It is the world famous stupa in the dome shape rises to 98 meters above its base and covered with 60 tons of pure gold and 4,350 diamonds weighing 1800 carats! At sunset, the glittering offers visitors a spectacular night view. Overnight at hotel in Yangon.
DAY 05: Departure from Yangon (B)
After Breakfast, will transfer to Yangon International Airport for departure.