Welcome from the Golden Land known as Myanmar. Experience the colonial atmosphere we will visit famous landmarks and statutes which represent the rich culture of Yangon, former capital. Breathtaking visit to one of the wonders known as Kyaikhtiyo and last exploring to Bago the ancient kingdom.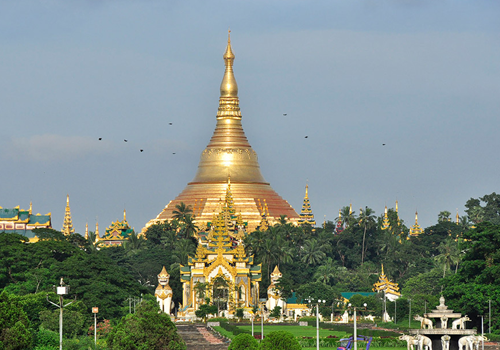 Day 01: Arrival Yangon ( L, D )
After breakfast at hotel , Yangon first sightseeing visit to Botahtaung Pagoda, a famous landmark on Yangon's waterfront where one can see Buddha's hair relic, The Strand Jetty to witness the daily life of the local people and Yangon's River that offers a remarkable atmosphere with spectacular colours and then visit to photo stop at the heart of Yangon such as Sule Pagoda, Maha Bandoola Park with Independence Monument, City Hall, High Court and many colonial style building and then visit to shopping at Bogyoke Aung San Market, also known as Scott Market. Inside the market you can find various kinds of local products, souvenir and traditional clothes.
Evening visit to the 2,500 years old magnificent Shwedagon Pagoda sheathed in 11 tons of pure gold and 4,350 diamonds weighing 1800 carats! At sunset, the Shwedagon offers visitor a spectacular show of lights and shadows.
Overnight at Hotel Yangon.
Day 02: Yangon-Kyaikhtiyo ( B, L, D ) (By open truck/ by coach)
After breakfast at hotel and then visit to Kyaikhtiyo (Golden Rock) about 160 km from Yangon, stands on a gilded boulder precariously perched on the edge of a hill, located about 160 km from Yangon, Kyaikhtiyo is the domestic tourism centre. It stands on a gilded boulder precariously perched on the edge to the hill over 3615 feet above sea level. There are many legends about the Pagoda and Nat (Spirit Gods) shrines along the way from the base camp to the pagoda. There is also a popular belief that a person gains in wealth every time he climbs the hill. It is a test of one's endurance and is very exhilarating once a person has reached the summit. Our coach has to stop at Kinpun Base camp. From there we have to use an open truck which is normally used for hilly track up to the golden rock.
Overnight at Hotel Kyaikhtiyo.
Day 03: Golden Rock-Bago – Yangon ( B, L, D ) (By open truck/ by coach)
After breakfast, return by coach to Yangon. En route visit at Bago, the ancient Mon Capital, 80 Kilometers northeast of Yangon. Sightseeing tour highlights include in Bago. Bago colorful market to observe the ways of life of local people, Shwemawdaw Pagoda, one of the most venerated pagodas in Myanmar, Kanbawzathardi Palaces, Shwethalyaung, the world's most beautiful Reclining Buddha, Kyaikpun Pagoda, four huge Buddha Image sitting back to and Chinese (Quan Yin) temple. Then drive back to yangon.
Overnight at Hotel Yangon.
Day 04: Departure from yangon ( B, L )
Breakfast at Hotel, we check out hotel then go to Yangon International airport for departure.