Landed in Yangon former the capital city of Myanmar, enjoy the city life. Then we travel to one of the world wonder The Golden Rock, after our stay we bound to one of an ancient Heritage Pandaya Pagoda famous for thousands of Buddha Image and once upon a time that shrine glory culture an ancient city called Bagan. Proceed to one of the most natural Inlay Lake and the last Myanmar Kingdom Mandalay.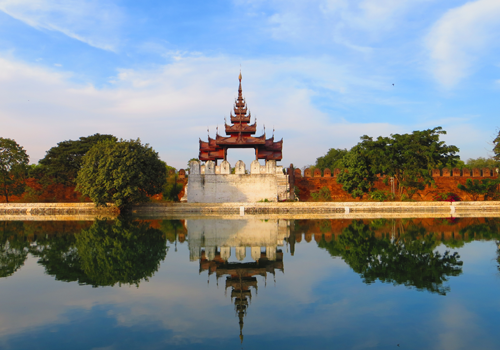 Day 01: Yangon – Bagan ( Morning Flight )
After breakfast at hotel leave Yangon for Bagan by morning domestic flight. Our statation guide is warmly welcome and then visit start to Bagan full day sightseeing is ; Nyaung Oo Market, Shwezigon Pagoda – built by King Anawrahta in the early 11th century as a religious shrine; Wetgyiinn – Gubyaukgyi – a temple with exquisite murals of Jataka scene; Temple, Anada Temple & Oakkyaung the most beautiful temple in Bagan with four huge standing buddha images and numerous seated figures in niches around the galleried interior; Thatbaynyu Temple – built by King Alaung Sithu in the early 11th century & the tallest temple in Bagan .Lunch at local restaurant .After lunch visit to Lacquerware Industry, Minnanthu Village, Phwasaw village- where can see the typical Myanmar villagers life and then evening visit to watch sunset over the Ayeyarwaddy River from Shwesandaw Pagoda or Bupaya.
Overnight hotel at Bagan.
Day 02: Bagan – Popa – Salay – Mandalay ( By Private Transportation )
After breakfast at hotel we will driving down to Salay going to Salay and a short stop on the way will be made to study Toddy farmer's life like collecting toddy wine, making molasses, and making handmade oil. Your Salay visit will include Yoke-son Monastery decorated with wood-carvings depicting scenes for moral lessons. Then a short walk through the ruined old monastery to Laquerware Buddha Image and the ancient monastery. Then tour continue to Mount Popa (by coach), an extinct volcano, which is the abode of Nats (Spirits). On top of the mountain, there are monasteries, pagodas and shrines in different style and then continue drive to Mandalay by our private car (5 hours drive to Mandalay).Arrived the Mandalay city statation guide is warmly welcome and then continue drive to Amarapura – an ancient capital built on the advice of astrologers to take a walk on U Bein Bridge – 1.2 km long over 200 years old wooden bridge across the Taung Thaman Lake view the sunset from there and return to hotel.
Overnight hotel at Mandalay.
Day 03: Mandalay ( B )
After breakfast at the hotel; our guide pick up to hotel and first visit to Mandalay Hill , from there one can see that amazing sunrise view of Mandalay city and then proceed to Mahamuni Pagoda – one of the most sacred Buddha Image in Mandalay continue visit to Gold foil making cottage industry and then Check-in hotel at refreshment time after relaxing and Lunch time at local restaurant and then followed by afternoon sightseeing that begins with Mandalay Palace, Shwenandaw Monastery, noted for its exquisite wood carvings; Kuthodaw Pagoda, known as the World's Biggest Book for its stone slabs of Buddhist scriptures
Overnight hotel at Mandalay.
Day 04: Mandalay – Sagaing – Mingun ( B )
After breakfast at the hotel, drive to Sagaing Hill – known as the center for meditation with hundreds of Pagodas,Monasteries & Nunneries tucked into the surrounding valleys & hills. Visit U Min Thoneze – thirty caves pagoda has many Buddha images in a crescent shaped colonnade, Sun Oo Pon Nya Shin Pagoda was constructed in 1312 -the view of Sagaing from there is marvelous. Visit Kaunghmudaw Pagoda – an enormous dome shaped pagoda built in 16th century; Pottery and Silversmith workshops…Lunch at a local restaurant. After lunch, boat trip to Mingun where the world largest ringing bell exist. Tour highlights: Mingun Bell; a mammoth unfinished Mingun Pagoda, Mya Thein Tan Pagoda, Settawya Pagoda and Hsinbyume Pagoda, Mingun village and environs. Back to Mandalay by enjoying the sunset view over the Mighty Ayerwaddy River.
Overnight hotel at Mandalay.
Day 05: Mandalay – Heho – Pindaya – Inle Lake ( B ) ( By Private Transportation)

After breakfast in hotel, leave Bagan for Heho by private car transportation. On arrival Heho , continue by road (70km,two & half hours drive) to Pindaya – a small quiet town, famous for it more than thousand of Buddha Images deposited inside the caves centuries of years ago. On the way passing though the hill tribes villages. Visit Pindaya caves; Traditional Shan paper making village; Pottery and Umbrella making villages. Lunch at local restaurant. Proceed to Nyaungshwe-the gateway of famous Inle Lake.
Overnight hotel at Inle.
Day 06: Inle Lake ( B )
After breakfast at hotel, boat trip to Inle Lake – stretches 18km & 889m above sea level,the second biggest lake in Myanmar & famous for its unique leg rowers. Tour highlights include visit to: Floating Market (can see on the market days only which is hold on every five days); Phaungdaw Oo Pagoda -the holiest religious site in Southern Shan State; Inpawkhone Village – famous for its silk weaving handlooms; Ngaphechaung Monastery –one of the oldest monastery on the lake & well known because of jumping cats; traditional ways of fishing; floating gardens; Silk Weaving Workshops; Cheroot Making Workshops; Silverware Workshop; Sacred Robe Woven from Lotus Fibre Workshops
Overnight hotel at Inle.
Day 07: Heho -Taunggyi – Yangon ( B ) ( Evening Flight )
After breakfast at hotel ,our guide with together going to Taunggyi sightseening by private car transportation ,Taunggyi is the capital of shan state and higher feet of 4712 above sea level; Taunggyi sightseening vist to Shwe Phone Pwint pagoda is situated on the top of mountain east of the city and one you can see that the amazing view of taunggyi and the proceed to Taunggyi Myo Ma Market from there you can see that shan tranditional products and freshing fruit and lunch time at local shan tranditional restaurant and then continue drive to heho domestic airport ,leave shan state for yangon by evening domestic flight.