Bagan, one of Asia's most significant historical sites, it history goes back to the 9th century, massive temple construction began during the reign of King Anawrahta, who founded the Bagan empire in 1044. The King who was converted to Theravada Buddhism started building some of the grandest temples of Bagan, Shwezigon Pagoda as an act of making merit. Slowing, Bagan became a center for Buddhism attracting monks from far away countries. Regardless, historians agree that sometime towards the end of the thirteenth century the population fled and left the enormous complex of incredible temples and palaces to the will of fate. From the top of the taller temples you can look out 2,200 monuments remain in various states of repair, which makes Bagan one of the most dense concentrations of temples and pagodas in the world. It's said there are more than 4,000 temples over an area of more than 20 square kilometres. Bagan City was surrounded by walls that were built around the start of the 11th century. Nowadays, only a small section of the walls remain and one of the original gates, the Tharabha gate is left.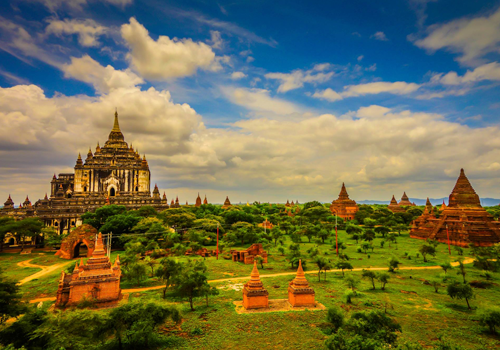 Day 01: Arrival Yangon ( L, D )
Arrive at Yangon airport by international flight. Welcome by a tour guide First sightseening visit to Chaukhtat Kyi Pagoda– a colossal reclining Buddha image 70m long in the pose of rest & built with untraditional method of Buddha construction, and then proceed to City Center surrounded by various colonial style buildings of World War II, City Hall & Independent Monument & Maharbandula park for photo shots & witness the daily life of local people;
Evening visit to Shwedagon Pagoda – over 2500 years old & the world famous stupa in the dome shape rises 98 meters above its base and covered with 60 tons of pure gold. and 4,350 diamonds weighing 1800 carats! At sunset, the Shwedagon offers visitor a spectacular show of lights and shadows. Overnight hotel at Yangon.
Day 02: Yangon – Kyaikhtiyo ( B, L, D ) ( By open truck/ by coach )
After breakfast at hotel we will start to Kyaikhtiyo trip (Golden Rock) about 160 km from Yangon, stands on a gilded boulder precariously perched on the edge of a hill, located about 160 km from Yangon, Kyaikhtiyo is the domestic tourism centre. It stands on a gilded boulder precariously perched on the edge to the hill over 3615 feet above sea level. There are many legends about the Pagoda and Nat (Spirit Gods) shrines along the way from the base camp to the pagoda. There is also a popular belief that a person gains in wealth every time he climbs the hill. It is a test ofone'endurance and is very exhilarating once a person has reached the summit. Our coach has to stop at Kinpun Base camp. From there we have to use an open truck which is normally used for hilly track up to the golden rock. Overnight at Hotel Kyaikhtiyo.
Day 03: Golden Rock – Bago – Yangon ( B, L, D ) ( By open truck/ by coach )
After breakfast, return by coach to Yangon. En route visit at Bago, the ancient Mon Capital, 80 Kilometers northeast of Yangon. Sightseeing tour highlights include in Bago. Bago colorful market to observe the ways of life of local people, Shwemawdaw Pagoda, one of the most venerated pagodas in Myanmar, Kanbawzathardi Palaces, Shwethalyaung, the world's most beautiful Reclining Buddha, Kyaikpun Pagoda, four huge Buddha Image sitting back to back and Chinese (Quan Yin) temple. Then drive back to Yangon and check in hotel refreshing time. Overnight at hotel Yangon.
Day 04: Yangon – Bagan ( B, L, D )
After breakfast at hotel, leave Yangon for Bagan by domestic morning flight. Our Statation guide is warmely welcome and then transfer to hotel check in relaxing time . After relax time and visit start to Bagan full day sightseeing is ; Nyaung Oo Market; Shwezigone Pagoda – built by King Anawrahta in the early 11th century as a religious shrine; Wetkyi-in Gubyaukgyi – a temple with exquisite murals of Jataka scene; Temple, Ananda Temple & Oakkyaung the most beautiful temple in Bagan with four huge standing buddha images and numerous seated figures in niches around the galleried interior; Thatbaynyu Temple – built by King Alaung Sithu in the early 11th century & the tallest temple in Bagan . Lunch at local restaurant . After lunch, visit to Lacquerware Industry; Minanthu Village; Phwasaw village- where can see the typical Myanmar villagers life. Evening visit to watch sunset over the Ayeyarwaddy River from Shwesandaw Pagoda or Bupaya. Overnight hotel at Bagan.
Day 05: Bagan – Heho – Pindaya – Inle Lake ( B, L, D )
After breakfast in hotel, leave Bagan for Heho by domestic flight. On arrival Heho , continue by road (70km,two & half hours drive) to Pindaya – a small quiet town, famous for it's more than thousand of Buddha Images deposited inside the caves centuries of years ago. On the way passing though the hill tribes villages. Visit Pindaya caves; Traditional Shan paper making village; Pottery and Umbrella making villages. Lunch at local restaurant. Proceed to Nyaungshwe-the gateway of famous Inle Lake. Overnight hotel at Inle.
Day 06: Inle Lake ( B, L, D )
After breakfast at hotel, boat trip to Inle Lake – stretches 18km & 889m above sea level,the second biggest lake in Myanmar & famous for its unique leg rowers. Tour highlights include visit to: Floating Market (can see on the market days only which is hold on every five days); Phaungdaw Oo Pagoda-the holiest religious site in Southern Shan State; Inpawkhone Village – famous for its silk weaving handlooms; Ngaphechaung Monastery –one of the oldest monastery on the lake & well known because of jumping cats; traditional ways of fishing; floating gardens; Silk Weaving Workshops; Cheroot Making Workshops; Silverware Workshop; Sacred Robe Woven from Lotus Fibre Workshops. Overnight hotel at Inle.
Day 07: Heho – Mandalay ( B, L, D )
After breakfast at hotel, leave to Heho for Mandalay by domestic flight. Transfer to hotel. On the way visit to Amarapura – an ancient capital built on the advice of astrologers to take a walk on U Bein Bridge – 1.2 km long over 200 years old wooden bridge across the Taung Thaman Lake. Then proceed to Mandalay & visit to Mahamuni Image– a bronze Buddha image casted during the lifetime of Buddha himself. Overnight hotel at Mandalay.
Day 08: Mandalay – Sagaing – Mingun ( B, L, D )
After breakfast at the hotel, drive to Sagaing Hill – known as the center for meditation with hundreds of Pagodas,Monasteries & Nunneries tucked into the surrounding valleys & hills. Visit U Min Thoneze- thirty caves pagoda has many Buddha images in a crescent shaped colonnade., Sun Oo Pon Nya Shin Pagoda was constructed in 1312 -the view of Sagaing from there is marvelous. Visit Kaunghmudaw Pagoda – an enormous dome shaped pagoda built in 16th century; Pottery and Silversmith workshops…Lunch at a local restaurant. After lunch, boat trip to Mingun where the world largest ringing bell exist. Tour highlights: Mingun Bell; a mammoth unfinished Mingun Pagoda, Mya Thein Tan Pagoda; Settawya Pagoda and Hsinbyume Pagoda; Mingun village and environs. Back to Mandalay by enjoying the sunset view over the Mighty Ayerwaddy River. Overnight hotel at Mandalay.
Day 09: Departure from Mandalay ( B, L )
After breakfast at the hotel, will transfer to mandalay airport for departure by international flight.