We, Myanmar have 4 main rivers known as Thanlyin River, Sittaung River, Chindwin River and Ayeyarwaddy River. Named after the Hindu eravati or 'Elephant River' the river in Myanmar consciousness, like the Ganges in Indian, it is a spiritual entity provider; that means for life, happiness, materials, history and spiritual living beings. Rising in the southern Himalayas, it dissects the land from north to south for 1,350 miles, and end to Andaman Sea. Most of the country' s agriculture is centered along the floodplains of the over 2000 km.
                     Ayeryarwaddy River which flows south from its source (actually the confluence of two rivers), 27 km north of Myitkyina to a vast delta region along the gulf of Martaban southwest of Yangon. Navigable year around for at least 1500 km the Ayeyarwaddy has played a major role in domestic transport and communications for centuries. There are 5000 km of navigable river in Myanmar, with the most important river being the Ayeyarwaddy. Even in the dry season, boats can travel from the delta all the way north to Bhamo, and on the west they can reach Myitkyina.
                       Ayeyarwaddy has four defile and 54 km (36 miles) before reaching Bhamo carries the first defile and narrowest defile at the river. Later at Soncan a small town 50km (33 miles) the second defile comes (7½ miles long defile). Before reach to Kyaukmyaung 45km (26 miles) comes the third defile. The fourth defile will be seen at near Bagan.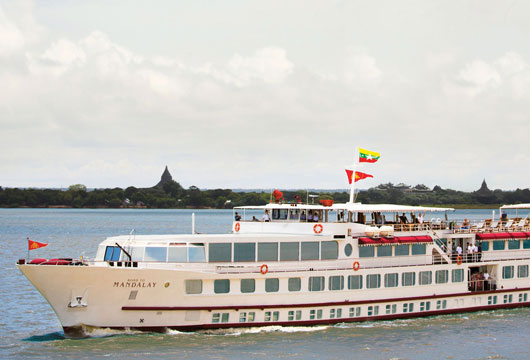 | | | |
| --- | --- | --- |
| | Total cabins | Total passengers |
| State cabins A Deck | 14 | 28 |
| Superior cabins A Deck | 14 | 28 |
| Superior cabins B Deck | 24 | 48 |
| Single cabins B Deck |   6 |   6 |
| Totals | 58 | 110 |
One of the best ways to see Myanmar is by gliding down its legendary river, the Ayeyarwaddy (Irrawaddy), aboard a superbly appointed luxury river cruiser, the"Road To Mandalay". The Eastern & Oriental Express has again made history by initiating cruises on the Ayeyarwaddy River. Journey along the legendary Ayeyarwaddy is a voyage of a lifetime. The elegant river cruise Road To Mandalay is enchanting and fascinating along the river side which is the view of Myanmar's scenic beauty. The luxury river cruise ship has been created by Venice – Simplon-Orient-Express from the former MS Nederland. Since 1995 this totally refurbished ship sails between Mandalay and Bagan. The ship has a swimming pool, a large sun deck, a spacious observation lounge with large windows in addition to the excellent cabin facilities, a restaurant able to accommodate all passengers in one sitting and satellite communications, Piano Bar, Boutique, Beauty Salon and small Library.
Accommodation At Road To Mandalay
The Road to Mandalay can accommodate a maximum of 118 passengers in 3 different cabin types. All cabins are fully air-conditioned and have en suite shower and WC facilities. Each cabin has a personal safe, telephone and satellite TV with in-house video. Sockets are suitable for 2-pin round plugs (220 volts). Hair dryers are available in each cabin.
RV Pandaw 1947 Ayravata Cruise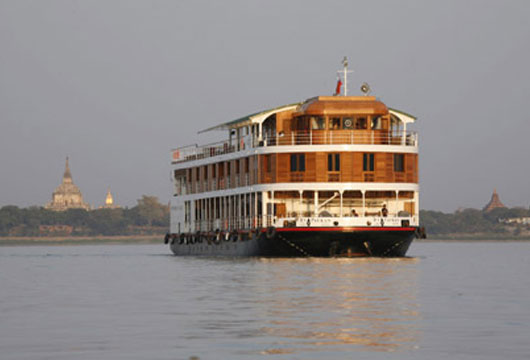 Accommodation & Facilities
The charm of an original colonial style steamer built in Scotland on 1947 by Yarrow & Co. and delivered to the Inland Water Transport in the 1948.
16 Twin bedded cabins each with Private facilities / Hot water shower
All cabins are outward facing and guests can enjoy the river view sitting on the promenade in front of their Cabins.
Semi circular saloon bar located in the bow with several windows.
Spacious airy dinning room.
Sun deck or observation deck furnished with Teak steam chairs and sun beds.
Colonial style brass out fitting.
Teak wood and Pyinkadone (Iron wood) deck floor.
               A journey on Myanma lifeline Ayeyarwaddy is one of the greatest travel experiences. Rv Pandaw was built in Scotland on the Clyde by the famous ships builder Yarrow & Co on 1947 with the same design of the pre-war Quarter Wheeler steamers of the Irrawaddy Flotilla Company. After being boarded up in order to protect her from the sea waves, she left Scotland for the delivery voyage to Burma on the 1950. On the 12th January 1951 she started to serve the Inland Water Transport (Irrawaddy Flotilla was nationalized on the 1st of June 1948) on the route Mandalay- Bhamo for both cargo and passenger transportation.
                    In the 1998 she was hired from Inland Water Transport and converted into a 16 cabins luxurious river cruise vessel by the Historian Mr. Paul Strachan and his wife, who is also the founder of the revived Irrawaddy Flotilla Company. After 5 successful years of cultural cruises operations in the Irrawaddy and Chindwin rivers of Myanmar, IFC decided to not renew the charter contract with IWT anymore because the Old Lady Rv Pandaw needed some major repairs and refitting, an investment that IFC probably deemed not convenient as they have already built two bigger new Pandaw replicas with higher passenger capacity.
                   In the second half of the 2003 Interconnection Co. Ltd signed the charter agreement with IWT and the Pandaw underwent to major renovations in the Marine Side at the Yangon Dalla Dockyards. As far as the Hotel side is concerned new furniture has been specially designed and new Food and Beverage equipment have been bought.
Malikha River Cruise (New Express Boat From Mandalay –Bagan –Mandalay)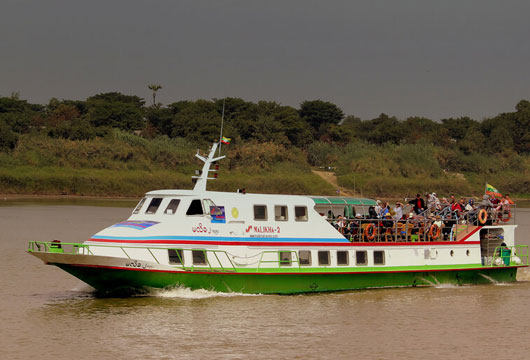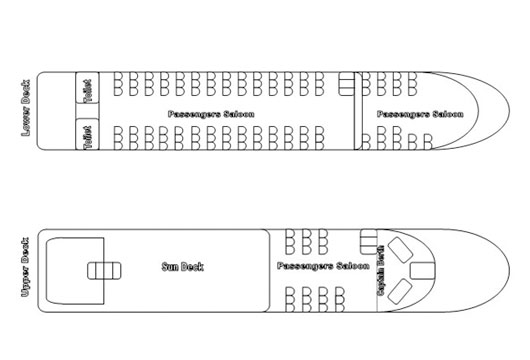 Jetty List
| | |
| --- | --- |
| Mandalay Jetty | Malikha Jetty (Gawwin Jetty) |
| Bagan Jetty | Ayarwaddy Princess Jetty |
                Malikha will provide a luxurious way to escape the stress of your daily life. We assure that the only service you will have is the pleasant kind.Our "Malikha" cruises destinations and do some exploring today. Our ships are designed with a variety of features and intimate amenities to make you feel as convenient as home, while experiencing locals' routine and lives.
             Joining our "Malikha" , set off from Mandalay, the famous historic city of Myanmar, and carried by Irrawaddy, the longest river in Myanmar. Take in the natural beauty of Irrawaddy, and explore the facinating scene of Mt.Sagaing, Pakokku, Myaingyan, Bagan and other well-known cities.
                    Travel from one exciting destination to the next in the comfort of exquisitely upholstered chairs and sofas, while you enjoy expansive views of the ever-changing scenery and while sipping your favourite beer or cold drinks.
We arrange chartered cruise upon request for Bhamo, Katha, Mingon and others.
| | | | |
| --- | --- | --- | --- |
| Dimension | Main Engine | Seating Capacity | Services Available on Board |
| Length:105′ 9″ | Type : COMMINS x 2NOS | 129 Passengers | TV, Air-Con, Bar, |
| Breadth:16′ 9″ | Capacity : 350 x 2 BHP | | Easy Chair on Sundeck 0hrs |
| Draft: 6′ 3″ | Service Speed : 16 Knots | | |
| | | |
| --- | --- | --- |
| | ETD | ETA |
| Mandalay-Bagan | 07:00hrs | 13:30hrs |
| Bagan-Mandalay | 07:00hrs | 14:00hrs |
RV Shwe Keinnery River Cruise between Mandalay –Bagan –Mandalay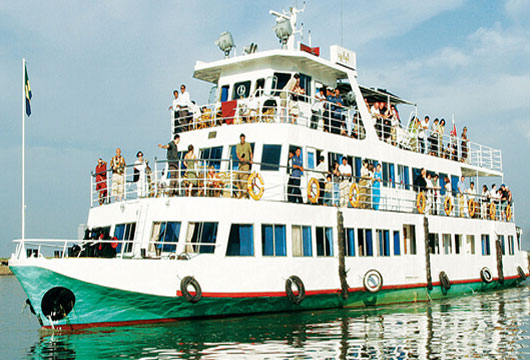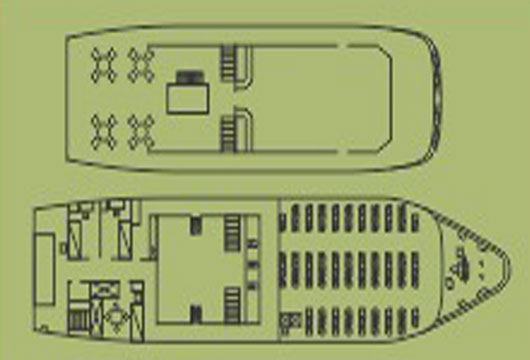 Boat Configuration
| | |
| --- | --- |
| Facts | Description |
| 1. Dimensions | Length: 35.00 meter Breadth: 08.00 meter Dept: 02.00 meter Draft (Loaded): 01.30 meter |
| 2. Main Engines (2 Nos) | Type: MWM TBD 243 V8 Power: 296 KW @ 1800 rpm |
| 3. Diesel Generator (2 Nos) | Type: 50 GFC Power: 50 KW, 400 V, 50 Hz |
| 4. Service Speed | Speed: 13 Knots |
| 5. Compliment | Passenger: 130 Crews: 20 |
| 6. Air Conditioning System | Type: MCW – 3 (Central Air Condition) Capacity: 30000 k cal / h |
| 7. Communication and Navigation Equipments | (a) SSB Transceiver (b) VHF Radio (c) Sound Power Telephone (d) Public Addressing and Enteraining System (e) Emergency Visual Telegraph (f) Fire Alarm Button and Bell (g) GSM Mobile Phone |
The Legend of Shwe Keinnery
                 In Myanmar literature, Shwe means the pure gold but usually used especially in describing valued articles.
Keinnery and Keinnera are very gentle mythical birds with human head and trunk of human body. In the legendaries of Myanmar, Thai, Laos and Cambodia, that half-bird half-human are creatures in the mythology.
Symbol of true love Keinnery is male & Keinnerar is female. One of Myan-mar ethnic minorities Kayah people believe that they are decended from Keinnery and Keinnera.
Keinnery has head, torso, and arms of human being and wings, tail and feet of a swan. They are renowned for their dance, song and poetry. These are enable to fly between human world and mystical one.
The RV Shwe Keinnery 1, 2 and 3
The 1996 China – built three river vessels had been operated by the IWT (Inland Water Transport, Ministry of Transport) along the rivers of Myanmar from north to south for more than one decade since they arrived from their dock to Myanmar in 1996. Those vessels were named Shwe Keinnery numerical order one, two and three.
The RV Shwe Keinnery 1, 2 and 3 had been taken over by Interconnection Travels who has experiences in tourism and river cruising. One of the groups Ayrvata Cruises is successfully operating RV Pandaw 1947, an original 1947 built colonial steamer and going to expend a new fleet in the future.
For the convenience of the clients, the major renovation necessary renovation shall be done to all 3 ships before 1st October 2006. The gourmet restaurants would be operated onboard each of the ships.
The journey on Ayeyarwaddy (Irrawaddy) River lets you have a memorable experience. The river provides you an opportunity to see one of the most interesting areas in Myanmar onboard in the modern and comfortable ships. Each vessel has about hundred furnished seats in the main deck. Specious, well equipped observation and sundeck, a place to relax and having sunburn offer the spectacular views of historical monuments and the ways of local livings along the famous Irrawaddy River.
Located at the upper deck, furnished dinning hall is another place to rest, relax and having delicious cuisine and drinks during the cruise. Between two ancient capitals, it stops at Myinmu and Pakkoku respectively able to join the passenger en-route.
Services available on Board
TV
Air con
Restaurant
Bar
Easy chair on sun deck 
Useful Information Mandalay-Bagan
| | |
| --- | --- |
| Jetty Name | Time |
| ETD Mandalay (Gawwein Jetty) | 07:00 hrs |
| ETA Bagan (Shwe Kunchar – Old Bagan) | 17:30 hrs |
| ETD Bagan (Nyaung U Jetty) | 05:30 hrs |
| ETA Mandalay (Gawwein Jetty) | 18:30 hrs |
Note: Arrival time may late depending on the permitted water level.