A visit to the legendary Portuguese Church which we will pass on the way to the wonderful pilgrims calls Kyauktan Pagoda located in the middle of river!
Enjoy your delicious lunch before hunting for local products and souvenir at famous Scott Market and then spend your leisure time on Shwedagon Pagoda watching the transformation of drawn lights while experiencing the spectacular moment.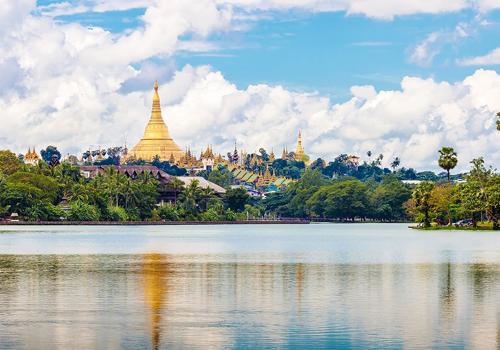 Our private coach pick up to hotel and first sightseeing to Thanlyin (Syriam) and across the yangon river via Thanlyin Bridge built by Chinese engineers, an opportunity to see the countryside around Yangon. Visit to Ancient Portuguese Church (AD 1749 – 1750) and visit busy local market in thanlyin and then visit to Kyauktan Yele Pagoda (A floating Pagoda which is Pagoda on a small island in the middle of the river) is a popular pace of pilgrims.Lunch will be served at local restaurant and then back drive to yangon.
Afternoon yangon visit to shopping at Bogyoke Aung San Market, also known as Scott Market. Inside the market you can find various kinds of local products, souvenir and traditional clothes.
Evening visit to the 2,500 years old magnificent Shwedagon Pagoda sheathed in 11 tons of pure gold and 4,350 diamonds weighing 1800 carats! At sunset, the Shwedagon offers visitor a spectacular show of lights and shadows. And then transfer to hotel.